For your Company to be able to successfully embark on digital transformation, moving to cloud is necessary to provide the agility and speed required from a digitally responsive Enterprise Infrastructure. Devops and Cloud are essential in your IT development projects. Ricoh Spain's expert in Cloud Technologies, Juan Carlos Fernandez Galante, explains why Cloud Adoption is critical in the digital age.
Why move to cloud?
The ability to respond at speed to unforeseen events and new requirements, whether that be scaling up storage or processing power is the key driver for making the move to the cloud. And the obvious one also, is the significant flexibility, and subsequent reduction in cost associated with subscription- based cloud/hybrid models vs. traditional on-premise infraststructure.
The trend is Cloud
The cloud is growing.

According to RightScale, in 2017 over 95% of the companies that carried out their digital transformation utilised cloud-based models as a principal accelerator. Public clouds, such as AWS and Microsoft Azure, have experienced a continual growth, which has increased significantly in 2018 thanks to the tools that leading Public Cloud providers have put in place to make it even easier to make the move- such as built in API's and packaged models for specific, common workloads. This is demonstrated by the astronomical growth of Microsoft Azure in the first fiscal quarter of 2018/19, where Microsoft smashed Analysts growth expectations. (Venturebeat, 24.10.18, https://venturebeat.com/2018/10/24/microsoft-earnings-q1-2019/).

'We are off to a great start in fiscal 2019, a result of our innovation and the trust customers are placing in us to power their digital transformation,' Microsoft CEO Satya Nadella said in a statement. 'We're excited to help our customers build the digital capability they need to thrive and grow, with a business model that is fundamentally aligned to their success.'

- Satya Nadella, October, 2018

Private and hybrid clouds, that have also grown significantly in the last year.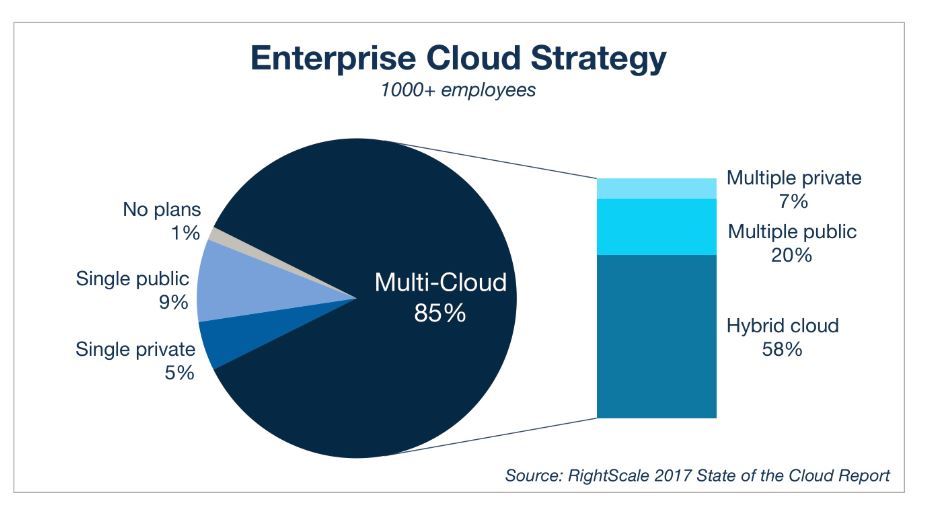 Public clouds have made very significant progress in data protection and its capability to isolate between different systems, now offering high security levels and efficiency. This convergence is giving companies a better, Enterprise-ready, choice, both in power and data security. The maturity and progression of Cloud environments, both public and private provides organisations with affordable agility that can power transformation at speed.
Amazon Web Services and Azure from Microsoft are some of the most influencial cloud platforms. Amazon's cloud is big enough to place it as the fifth-largest business software company in the world. Amazon Web Services exceeded $17 billion in revenue in 2017. If this growth continues AWS could surpass SAP to become the fourth-biggest business software company before 2020. Azure market share is also growing at pace, demonstrated by their recent successful financial year.
What's driving companies to adopt cloud?
The main reason is according to results of the RightScale Survey is still primarily cost optimization. However, if we analyse the way companies develop, test and deploy their different applications, the fact of being able to take advantage of the public and private cloud to create new applications and services offers important competitive advantages. In addition, it allows defining faster and more agile processes in organizations in order to respond effectively to an equally fast market.
The cloud is a very attractive option because of the speed, agility, efficiency and economies of scale that it gives to organizations. These qualities are especially suitable to face the company's big challenges: constant changes, fast, reliable and costs reduction.
As we move towards the future, it will be much more than the obvious driving businesses to increase their cloud adoption. The processing power in the cloud has moved us into a world of advanced analytics, and Analyst predict that organisations will move towards cloud based models to take advantage of AI and Machine Learning more readily in running their businesses in a way that gains them competitive edge.
And this is happening now, Ricoh are supporting their customers to take greater advantage of the cloud, developing predictive modelling based solutions, advanced data visualisation tools in cloud based reporting portals and agile application development, all to maximise the potential that cloud can bring to their businesses.